Victoria Mobile Radio News
40 YEARS IN BUSINESS
February 4, 2021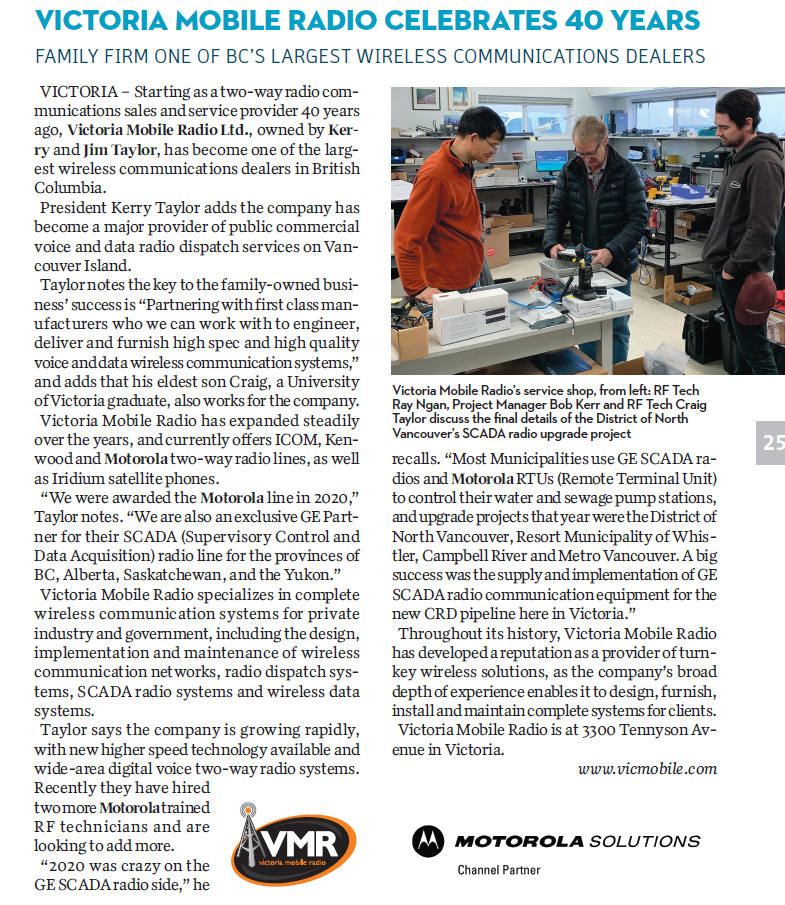 Generational shift brings two radio companies together
February 17, 2016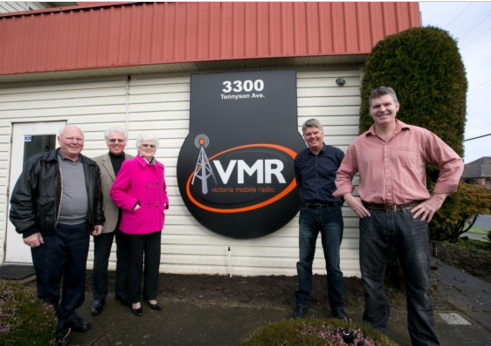 Victoria Mobile Radio Ltd. acquires Barney's Electronics Services as of February 1st 2016.  The purchase brings the company a communications tower on Saltspring Island to further expand radio coverage in South Vancouver Island.
Read the full write up from the Times Colonist
http://www.timescolonist.com/business/generational-shift-brings-two-radio-companies-together-again-1.2174488
GE MDS Solutions
September 18, 2015
Broadband Solutions
---
Data Radio Solutions
---
CREW CONNECT Nexedge System
September 17, 2015
Victoria Mobile Radio initiated the design and installation of an Nexedge System, giving clients push to talk radio covering South Western British Columbia.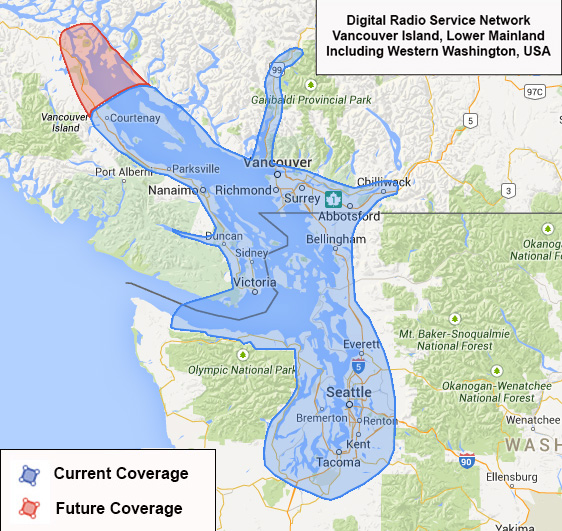 Kenwood Portable Radios
September 17, 2015
---
---
---
ICOM Land Mobile Radios
September 16, 2015
Iridium GO! is now available at Victoria Mobile Radio
September 16, 2015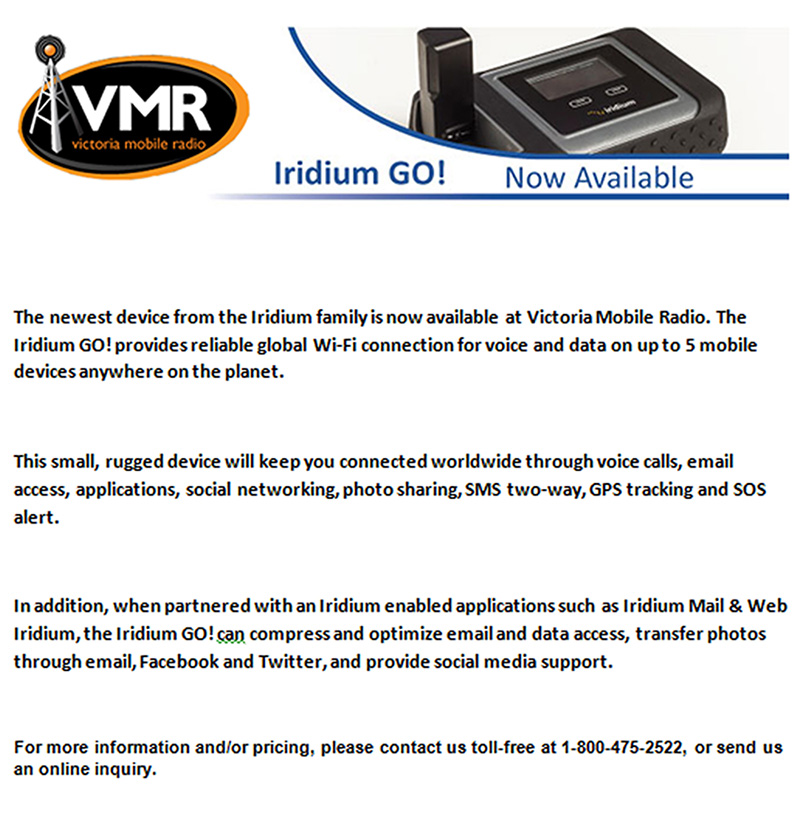 LTR Coverage
September 16, 2015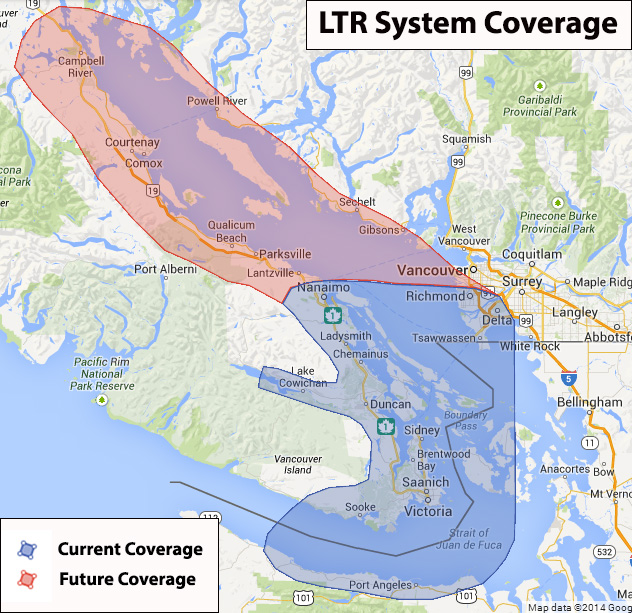 VMR IS THE AUTHORIZED CHANNEL FOR WESTERN CANADA FOR GE MDS WASTEWATER/WATER AND MUNICIPAL PRODUCTS
September 16, 2015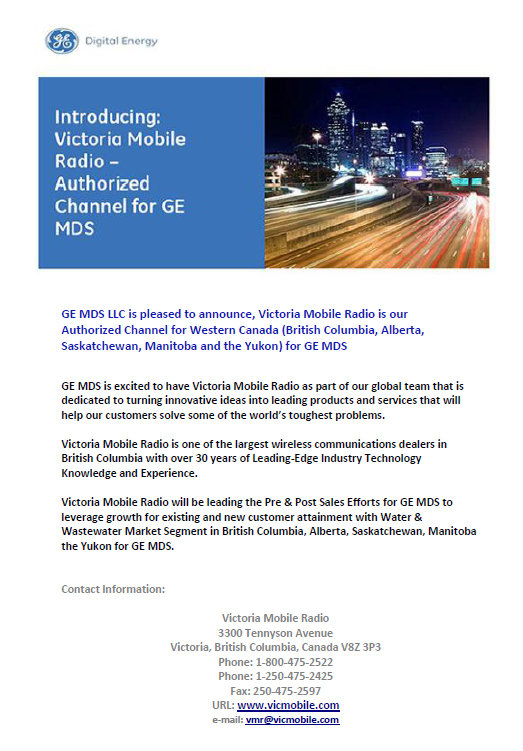 GPS Tracking
September 16, 2015
Do you want your company to be more efficient?  More profitable?  Increase customer satisfaction?  We do too!  That's why we're convinced that Fleet Complete is the ideal solution for your fleet of vehicles or equipment.
Fleet Complete is a full functional GPS Tracking Solution.  They have been partnered with Telus for over 9 years now and have over 65,000 tracking units deployed in Canada!
It offers:
Real time fleet management

Increased operational efficiencies

Vehicle maintenance system

Increased company revenues
For as little as $35/month and no upfront installation or equipment costs, you could realize the full power of a GPS tracking solution!

If you would like to have a look at how this solution might be right for your business, CLICK HERE!
Think someone in Twitterland should know about this solution?  Tell them!