Wi-Fi Calling is an iPhone feature that allows you to call and message (text and multimedia) over Wi-Fi when you have little or no cellular coverage. You can use Wi-Fi Calling to call and message as you do on the cellular network, even if the person on the other end is not using Wi-Fi Calling.
What you need
You will need the following:
An iPhone 6 or newer
A TELUS wireless postpaid plan
iOS 10.2 or newer (remember to update your carrier settings when prompted to do so)
LTE SIM
You will also need Wi-Fi connection that allows Voice over IP calling (VoIP)
Note: A minimum download speed of 0.5 Mbps and 0.5Mbps upload speed is recommended. Slow speeds will affect the quality of the call.
Turn on Wi-Fi Calling
Open your iPhone Settings
Select Phone
Select Wi-Fi Calling
You will need to read and accept the Wi-Fi Calling Terms and Conditions
Enter your Emergency 911 Address
Call and text message over Wi-Fi
When Wi-Fi calling is turned on you can call and message as you do normally and your iPhone will automatically use an available Wi-Fi network if it determines that you have low or no cellular coverage.
When moving out of cellular coverage, if you are making a call, your device will automatically switch to Wi-Fi without interrupting the call when in VoLTE coverage*. If not in VoLTE coverage, your call will drop if you move out of Wi-Fi connectivity while on a Wi-Fi call.
*Note: VoLTE is only available in AB/BC
How to tell if you are using Wi-Fi calling
Once you see the word Wi-Fi beside the TELUS network name on the status bar of your device, you can make a Wi-Fi call. Wi-Fi Calling uses the same native dialler and contact list on your device as for cellular, for your convenience.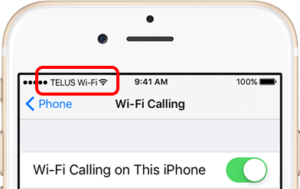 For more information from TELUS go to: http://www.telus.com/en/bc/support/article/wifi-calling-explained?INTCMP=VAN_wificalling