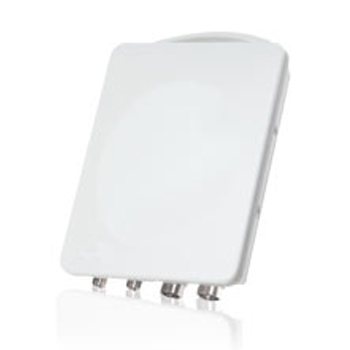 The MDS Intrepid™ P2MP high capacity point-to-multipoint backhaul solution is ideal for commercial-grade applications where longer distance and higher capacity with multiple sites is necessary
Product Description
Features:
Point-to-multi-point communications infrastructure with high base station capacity (up to 200 Mbps aggregate) and multiple subscribers (up to 16) within a coverage sector
High performance and throughput under Non-Line-of-Sight / near-Line-of-Sight conditions using advanced OFDM and 2×2 MIMO technologies
Flexibility in asymmetric traffic demand to optimize application efficiency
Capable of guaranteed bandwidth for securing Service Level Agreement (SLA) performance
Small base and subscriber units provide for improved ascetics and minimal visual appearance
60, 90 or 120 degree sectorized base stations
50, 20 and 10 Mbps subscriber units
Ethernet traffic supplied with indoor or outdoor rated PoE injector (ordered separately)
Asymmetric throughput demands for one-way high data rate applications
AES 128-bit encryption
4 queue traffic prioritization
VLAn Support – 802.1, Q QinQ, Layer-2 VPN
Time-Division Duplexing (TDD) synchronization
The MDS Intrepid™ P2MP high capacity point-to-multipoint backhaul solution is ideal for commercial-grade applications where longer distance and higher capacity with multiple sites is necessary. Intrepid P2MP provides highly secure, time sensitive and mission critical communications, and backhauls this information back to a central point.
Implementing a private communications network while leveraging the cost benefits of an unlicensed band requires a solution that utilizes the latest technology to obtain the maximum signal range while supporting high data capacity. Intrepid P2MP's implementation of full 2×2 MIMO technologies on both the base station and subscriber units provide optimum performance in difficult, frequency dense and NLOS/nLOS systems. The use of scalable OFDM modulation provides robust communications at the highest bandwidth and throughput possible during path disturbances and fading events.
Asymmetrical data bandwidth permits more data throughput for the uplink rather than the downlink – a requirement for high definition video and one-way high data rate deployment. The MDS Intrepid P2MP provides Quality of Service for data prioritization and Service Level Performanc
MDS Intrepid P2MP provides high capacity and scalable solutions for deployment within multipoint communication networks. By selection of the base station's sector angle (60, 90 or 120 degrees) multiple subscriber systems can installed within a given area to optimize efficiency and maximize sector throughput up to 200 Mbps aggregate. Time-Division Duplexing (TDD) synchronizes Intrepid P2MP base stations to accommodate multiple co-location systems and coverage overlap without introducing self-inflicted interference. MDS Intrepid P2MP is optimized as an Ethernet bridge for IP traffic operating with 10/100/1000Base T at the base station and with 10/100BaseT at subscriber units.