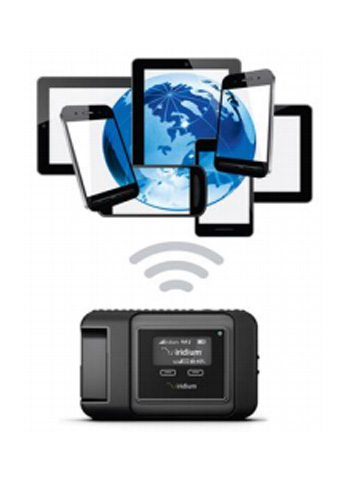 Simply flip up the integrated antenna and the battery-powered unit connects quickly and automatically to the Iridium LEO satellite constellation to create an anywhere Wi-Fi hotspot within approximately a 30.5-meter (100 foot) radius.
Product Description
Features:
Dimensions:
Durability Specifications:
Military-grade ruggedness (MIL-STD 810F)
Ingress Protection (IP65)
Easy to Use:
Stable, lay-flat design
Flip up antenna
Built-in menu/status display
Flexible:
Wi-Fi device ready
App API for developers
Robust accessory platform
Versatile: Iridium GO! supports a full range of global communications, including:
Voice calls
Email access
Applications
Social networking
Photo sharing
SMS two-way
GPS tracking
SOS alert
Mobile:
-Iridium GO! is small enough to fit in your pocket and — like other Iridium devices — tough enough to withstand rain, sand, dust and rough use. It can easily be:
-Carried or stowed in your backpack, or Mounted in vehicles, aircraft and boats for mobile applications
Innovative:
-Combining the best that both satellite and cellular phones offer, Iridium GO! is the first in a whole new category of personal satellite connectivity devices. It is also a powerful development platform optimized for Iridium partners to build applications.
Affordable:
-Compatible with Apple® and Android™ operating systems and supported by affordable plans that keep voice and data costs reasonable, Iridium GO!:
-Leverages and extends your existing trusted devices,
Allows connections to be shared among multiple users, and Eliminates roaming charges