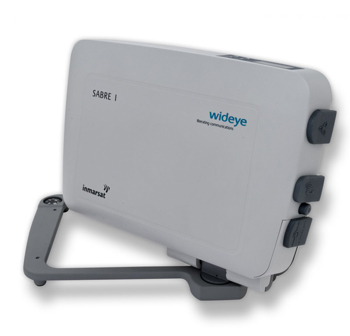 The Sabre1 WidEye combines ultimate performance with an extremely rugged design and is one of the most popular terminals offered by Infosat.
Product Description
Features:
Small – half the size of a laptop.
Simultaneous voice and broadband data
Connects to laptops via Ethernet or Bluetooth
Global coverage – provides service anywhere within the BGAN coverage area.
Easy to use – features an intuitive icon-based BGAN LaunchPad on your laptop.
Robust – SABRE™ I can withstand the toughest environments.
Completely secure – connect seamlessly via your preferred VPN application.
The Sabre1 – Wideye is ideal for either single users email, internet browsing, and voice applications, or for small teams that need to set up a temporary office.