You know the saying "The future is Friendly" or "Clear and Simple" pricing right?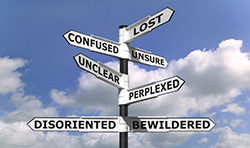 Well unfortunately, when trying to determine the rate plan that best suits your needs it can still be a little confusing.  Between talk, text and data, long distance, BBM, sharing, pooling, datalite, family and promo plans…wait, then there's business anywhere, regular and CIL…hold on, you work for a Corporation?  Enough said?  The task can still be a bit daunting.
However, we do feel that TELUS has come a long way in simplifying things.  And we at VMR realize that you may still need some help and advice on how to set-up and optimize your plans in order to give you the best value for your dollars.  Whether it's a business account with multiple users, a family plan or you just need a phone for yourself, we're here to walk you through the process.
If you'd like to familiarize yourself with the TELUS offerings we've provided a few links for you below.  Please feel free to check them out, get some ideas of what you're looking for, then let us know so we can plan a time to help you with the finishing touches;)
If you already have a designated Account Manager assigned to assist you with your account please feel free to get in touch with them directly.  Otherwise, we can assign someone to work with you.  Simply contact our office at 250-475-2425 or by email at jwright@vicmobile.com.